This article is sponsored by Natalie Maria Photography
Natalie Maria Photography
offers lifestyle family, newborn, and maternity photo sessions in the Chicago area. Natalie's goal is to capture authentic poses and expressions that really show the connection and love between family members. The booking process is simple, sessions are laid back, and receiving your images is quick and effortless.
---
Last December, we returned to New York City for another family wedding. It had been decades since I'd been in New York at Christmastime, so we did our best to soak it all in with the little time we had.
Arrival
Based on when we could leave, we would be arriving in the middle of rush hour, which meant a very expensive and time consuming ride from either JFK or LaGuardia, so we flew into Newark. Despite growing up in New York, I had never flown into Newark and taken the train into Manhattan. What a revelation! Once we got off our flight, we headed straight to the Air Train, and bought our tickets directly to NY Penn Station (you must be careful not to purchase tickets to Newark Penn Station.) The Air Train then takes you to your connection for New Jersey Transit. Air Trains run every few minutes and the NJ Transit trains run approximately every 15 minutes. The total one-way cost for an adult is $13 (less for kids.) Our train to NYC was merely four minutes away when we got there. It's a pleasant 40 minute ride into midtown Manhattan on a double-decker train, which the kids got a real kick out of.
Lodging
We stayed at the Moxy Hotel (a Marriott property) which was only two blocks from Penn Station. It's a swanky, boutique hotel, with a roof top bar/club, and 2nd floor lounge. We actually chose it for the rooftop bar, however we learned upon arrival that only guests 21+ were allowed in either the roof top or 2nd floor lounge areas. We grabbed our welcome amenity of gourmet candy and soft drinks, and went to our room to quickly drop off our bags and freshen up. The room was small, but had a cool, efficient, layout with the foot of two queen size beds facing each other, a sliding door to the bathroom/shower, and hooks everywhere, some with thick pillows hanging, as back supports, for sitting on the beds to watch the wall-mounted television.
Exploring
Stop #1 - We headed back towards Penn Station, on foot, and went to see the beautiful Macy's windows and Herald Square decorations. "This is where I saw the REAL Santa when I was little", I told my kids. With all the glitz and sparkle, it was easy to believe.
Stop #2 - Then, we traversed Broadway to get to Times Square. It was an unseasonably warm December day which allowed us to take our time and admire all the lights. The New Year's ball was clearly visible in all her splendor, and dozens of holiday characters roamed the area.
Stop #3 - We cut back on 42nd Street to 6th Avenue and Bryant Park. Bryant Park is magical at Christmas. There is a large skating rink, surrounded by a dazzling holiday market. There are various food and drink options, but not to be missed is the s'mores cabin! Ice skating at Bryant Park is free if you have your own skates, but of course, rentals are available.
Stop #4 - We continued to walk up 6th Avenue til we got to Radio City Music Hall. Just across the way we found the larger-than-life, bright red ornament display (1251 6th Ave), and a candy cane forest just next door to that. We sat at the fountain where the red ornaments are stacked, rested our feet, and took lots of pictures. We considered seeing a show either at Radio City or on Broadway, but didn't want to spend what little time we had inside a theater.
Stop #5 - Every time we spotted a Christmas tree, no matter the height, I'd tell my son, "This is it, the tree we came to see." It worked a couple of times, but there was no question as we rounded 50th Street, and got our first view of the tree at Rockefeller Center, that this was the tree to top all trees. You would think that seeing it in person again, decades later, that it would seem smaller, but it didn't. It was as majestic and breath-taking as ever. It was crowded, (a warm, Friday night in December - it might never be more crowded), but we were patient as we jockeyed our way to a spot, along the rail, to watch the skaters underneath the mesmerizing tree canopy. At one point the ice was cleared for a marriage proposal. "There's always one", I told the kids. To which they responded in amazement, "You've skated here? How is that possible? Don't you have to be famous?" I could see how they might think that, but no, getting on the ice was never difficult. A little pricey maybe, but now you do need to make a reservation far in advance due to covid, which is why we weren't skating there on this trip.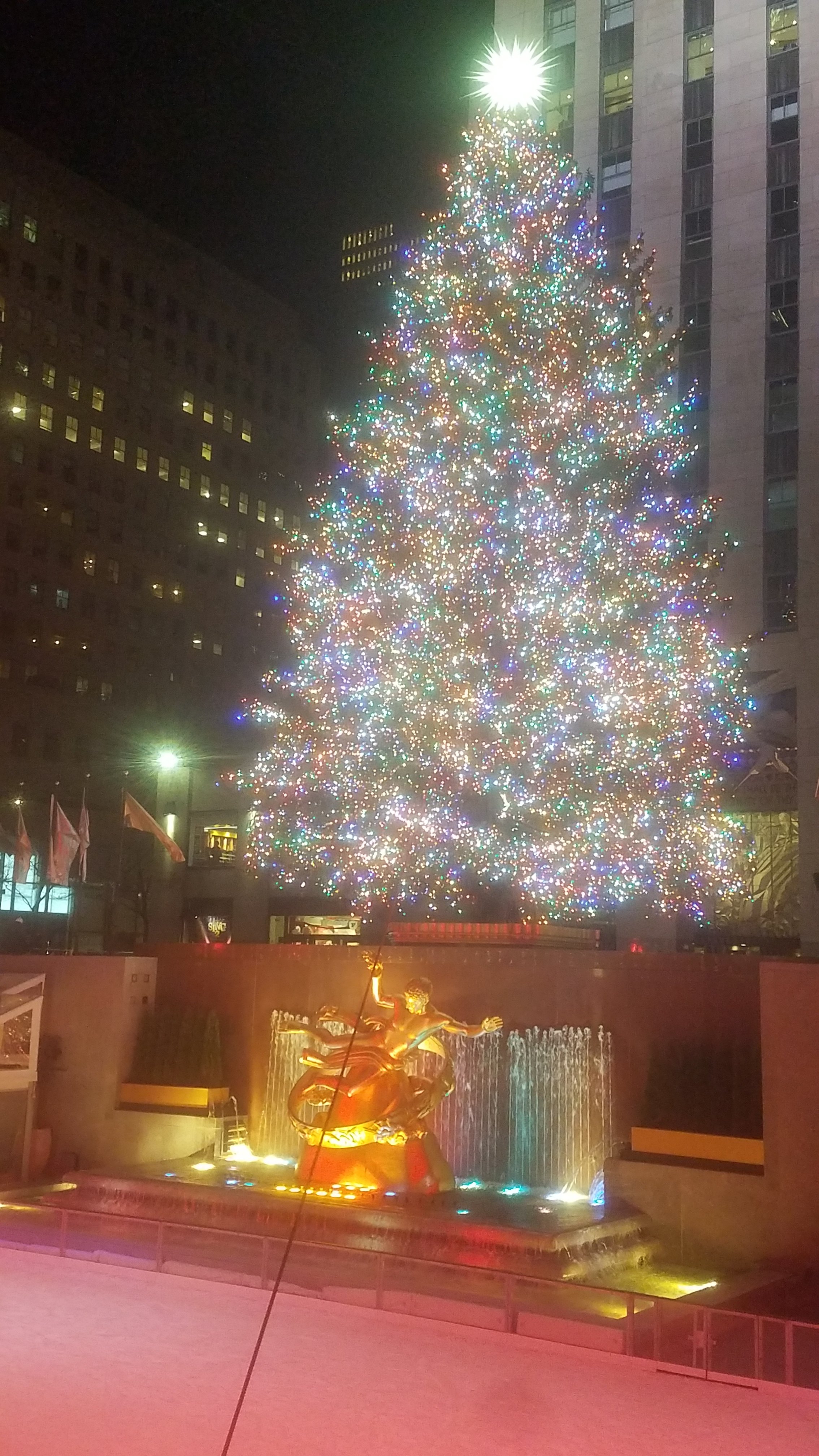 Stop #6 - Suddenly, we heard some loud music and hence we followed it up the 5th Avenue side of the Center, to the front of the Saks Fifth Avenue department store. When I was young, the Saks Fifth Avenue window displays were a sight to see, and always accompanied a trip to Rockefeller Center, but I had never seen what it has evolved into. There is an incredible light show synched to holiday music upon the store's facade. The five minute show plays every ten minutes.
Stop #7 - After watching the show - twice, we walked up 5th Avenue all the way to 59th, and then headed west to Columbus Circle. There was a cute little holiday market at Columbus Circle. We got some hot apple cider and entered Central Park.
Stop #8 - Central Park was serene. My son enjoyed jumping on all the rocks along the pathway. Fun fact: Though Central Park is a man-made park, the rock formations you find are exposed portions of ancient bedrock ranging in age from 190 million to 1.1 billion years old. According to the Central Park Conservancy, many of the formations found in Central Park were shaped by ice. We didn't really know where we were going, but we followed the ambient light to find the Wollman Ice Rink. Wollman Ice Rink is one of the most popular rinks in NYC. It certainly has the best backdrop (IMO.) While you are on the ice in the park, surrounded by trees, the wall of towering skyscrapers seems a million miles away. There is also a nice cafe, however we had dinner reservations we needed to move on to.
Stop #9 - We navigated our way out of the park and onto 60th street, and then proceeded east to 3rd Avenue. We had elusive reservations at Serendity 3, home of the famous Frozen Hot Chocolate dessert. The one hiccup on our entire day was that, despite our reservation, we still had to wait 30 minutes for our table, and we were starving! We were very fortunate it was warm enough to wait outside, as it is such a small space with no waiting area. We watched the tram to Roosevelt Island come and go as our stomachs grumbled. Our $24 burgers were delicious, and our frozen hot chocolate desserts decadent. Worth the wait?-Maybe. Worth the price?-No. Worth the memory?-Absolutely.
And that was our day. We had a long stroll back to our hotel, allowing us to digest, and were tucked in bed by midnight. The next morning we woke to glorious sunshine and one last view of the Empire State Building shining overhead as we exited our hotel. We went to Penn Station and hopped on our train to Long Island for the wedding. It was short, but oh so sweet, and I highly recommend our itinerary for anyone with a similar timeline in NYC in December - just be sure to bring comfy shoes!