This article has been generously sponsored by Moe's Cantina
Moe's Cantina's holiday theme is an immersive Grinch experience, "How the Grinch Stole Christmas Pop-up." The ceiling is covered with dangling red Christmas bulbs. There are a few different photo op set-ups including one with cut-outs for your own faces, and you'll find the Grinch himself scowling and stomping around obviously annoyed by all the Christmas cheer. Be quick to grab a picture with him, before he mutters off about trying to stop Christmas from coming, or let the kids attempt to make his heart grow with their tiny little voices and holiday wishes.
| | | |
| --- | --- | --- |
| | 3518 N. Clark St. | |
---
There is plenty of time and opportunity to bring the family down to Clark Street and enjoy all the holiday pop-ups. Most of the bars/restaurants do allow kids up to a certain hour, so you can create your own family-friendly crawl.
Elf'd Up
3485 N. Clark
Childen up to 7pm on weeknights and 4pm on weekends
Next to Santa Baby is Elf'd Up. If you are a fan of the movie Elf, you'll love this tribute to the film and all things sweet. If you are lucky, you may even run into Buddy. Go for weekend brunch and dare to try Buddy's Breakfast Pasta that includes spaghetti, topped with maple syrup, chocolate fudge, and mini marshmallows!
Grinch Stole Christmas at Moe's Cantina
3518 N. Clark St.
Children up to 9pm
Children are welcome before 9pm, and at least this past Friday night, it was not too crowded. However, they do take reservations for both high top tables or their fire table-centered couches. Whether you are there with kids or not, be aware the holiday music played at a moderate volume is replaced by a rather loud DJ at about 10pm.
The food menu includes really good nachos, amazing elote, a great variety of tacos (the shrimp are my favorite), and even kid menu options. Each one of the holiday cocktails is delicious. I particularly enjoyed the caramel rim on the "Don't Be a Grinch." Though, the best presentation goes to the "Holiday Patron Tree".
Stick around for churros for dessert, or continue wandering through Wonderland.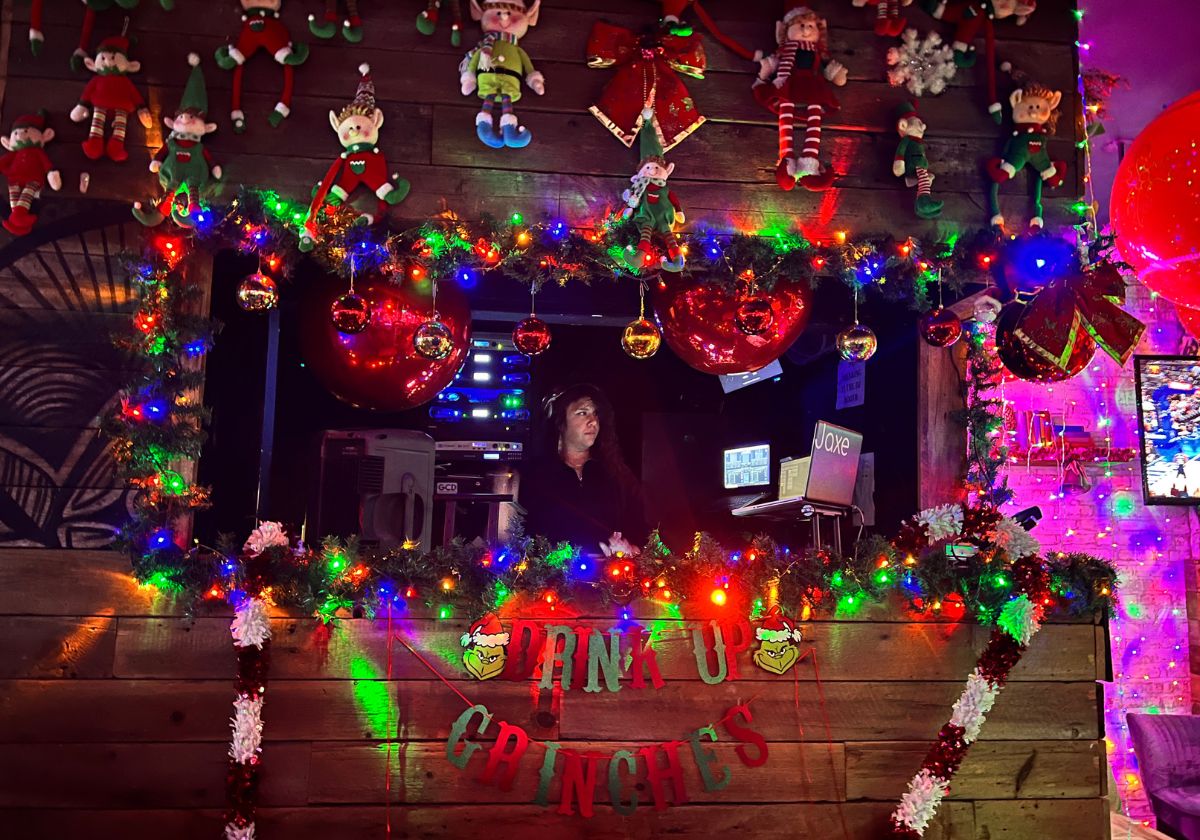 Santa Baby
3505 N. Clark St.
Children up to 8pm
Santa Baby is probably the most well-known pop-up on Clark Street, as it's glittery facade could be mistaken for something on the Las Vegas Strip. If you can manage to get a reservation at Santa Baby, you will be impressed by the decorations covering every inch of the interior and exterior, and your kids' minds will be blown by the over-the-top milkshakes. If you can't get a reservation, you can still take pictures in front of the castle-like entry. (Note, it costs extra to visit the 2nd floor and rooftop photo op experience, even if you eat there.)
Santa's Workshop at Old Crow Smokehouse
3506 N. Clark St.
Children up to 9pm
Next door to Moe's Cantina is Old Crow Smokehouse. The Old Crow Smokehouse has some larger-than-life size decorations including a giant rocking horse that you can climb on top of for a great family photo. Best of all, join Santa in his sleigh on the rooftop!
---
More Pop-Ups Worth Seeing
Christmas Club
3460 N. Clark St.
Children up to 7pm on weeknights and 5pm on weekends
Special appearances by Santa and other Christmas characters.
8 Crazy Nights
3441 N. Sheffield
Call for children hours.
Hanukkah themed.
Jingle Junkie
3478 N. Clark St.
Children welcome anytime
Cozy ski lodge theme.
Lumberjack Lodge
3636 N. Clark St.
Children welcome anytime
All the same great food and drink of Smoke Daddy's with a woodsy, lodge atmosphere. Kids eat free daily from 4pm-6pm.
Ugly Sweater Bar
3481 N. Clark St.
Children welcome anytime on weeknights, up to 9pm on weekends
Christmas cajun style!